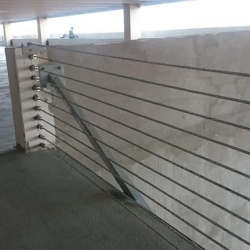 Strengthening Technologies is a full - service Barrier Cable contractor.  We design, supply, and install barrier cables to your existing or new parking structure. Barrier cable products are not only cost effective, but they are also an attractive feature on any structure. Our teams of trained and experienced field technicians install and repair barrier cable systems while maintaining the utmost safety. You can trust their hands-on field experience to get the job done with the proper installation of these materials. 
Barrier cables are a cost effective solution to provide fall protection along the separation of the parking garage ramps and horizontals, as well as around buildings. They are significantly less expensive than many other barrier options. Their efficient and effective design makes them a win - win solution for any of your structural barrier needs. 
At Strengtheningthening Technologies, we know how important these retention and restraint systems are in parking garages and commercial structures. We will use our expertise to keep your budget in mind and repair and replace your barrier systems as quickly and efficiently as possible. 
We will work with owners, architects and engineering firms to come up with cost- friendly, attractive and functional solutions.
Barrier Cable Repair and Maintenance
Bare steel cables may become corroded - these cables will require repair and replacement. Galvanized cables can better stand the test of time and can also be coated in plastic or epoxy sheathing. Many times, older parking structures require a face-lift or tune-up. Strengtheningthening Technologies will complete all repairs and replacements to ensure your structure is safe and meets all code requirements. Strengtheningthening Technologies prides itself on the ability to come up with a solution when talking about design, supply and installation of barrier cable systems.
Barrier cables make a great alternative to meet International Building Codes (IBC) or Post Tension Institute (PTI) Guidelines.
Some of our products and services include:
Materials utilized for design of structures requiring IBC "vehicular impact code" coverage
Materials utilized when considering pedestrian retention
Installation Services and Equipment