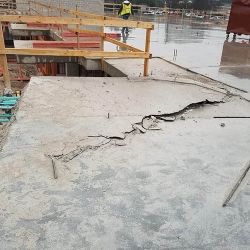 Post Tensioned Concrete is a commonly used method of concrete construction where multiple strands of steel cables are placed throughout a concrete slab to reinforce the structure. These groups of steel cables are incredibly important for increasing structural support as well as allowing for greater spans between supporting columns or beams. 
Placed in groups, the steel cables are set before the concrete is poured. After the concrete is poured, dried and cured, the tendons are pulled tight to create tension in the slab. In larger structures such as parking garages, these tendons are often draped - meaning they are low at the midpoint of a beam and higher at the supports. Doing this keeps the steel at the point of highest tension. Other common examples of post tensioning in concrete structures is in car dealerships and commercial and residential high rises.  
If tendons become corroded or damaged in any way, they might require repairs to be made in order to prevent further damage and accidents. 
Post Tension Repair is one of our specialties at Texas Strengthening Technologies. Our trained crews expertly repair and replace post tension tendons as well as make modifications for re-purposing post tension areas and inspection services of post tensioned concrete structures.
Post Tension Repair and Modification Services
External Post Tension Upgrades and Modifications
Post Tension Tendon Replacement
Pre-Stressed Concrete Repairs and Structural Upgrades
Post Tension Tendon Repair
Locating Broken Post Tension Tendons
Concrete Repairs on Post Tension Structures
Modifications and Re-purposing of PT Slabs
Cutting, De-Tensioning and Stressing