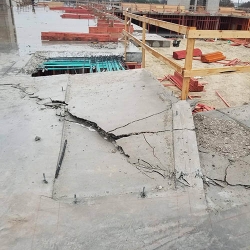 At Texas Strengthening Technologies, our business is keeping your concrete structures safe and up to code. That's why we offer a wide variety of concrete strengthening services that will ensure that your structure remains strong and intact for years to come.
We offer enlargements and pressurized form work, post tension repair and modification, concrete slab repair, slab on grade post tension repairs, barrier cable design and installation, carbon fiber strengthening, epoxy injections, concrete repair spalling, and form - and - pump repair.
Our focus at Texas Strengthening Technologies is on commercial and residential high rises as well as large industrial jobs. Our crews have successfully completed many jobs, and they are skilled and knowledgeable in the concrete repair field. You can trust us to keep up the standards your structure needs to remain safe.
When you call us with your problem, we immediately get to work solving it. We start by coming out to your location for your free, fair, and precise estimate on how much it will cost to get your job done. Once you are quoted, we will work to get your job done in a timely manner, while also maintaining the utmost level of professionalism and safe workmanship.
At Texas Strengthening Technologies, we get the job done right the first time. And we never sacrifice safety or quality in order to speed up a job.