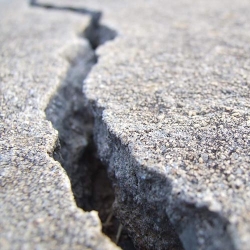 Here in Texas, many homes and other structures are built on top of concrete slabs. Homeowners and builders tend to surround their homes with trees, flower beds and gardens nearby. At some point, because of the soil under the concrete slab and nearby foliage, foundation failure may occur. This is also more likely with homes located in warm and dry regions with shallow footings.
When this happens, you wind up with settling concrete that cracks or becomes uneven, developing potentially dangerous tripping hazards, problems with pooling water and uneven surfaces. There are ways to diagnose a damaged concrete slab in your home. If the flooring inside is cracked or uneven, your concrete slab might be settling. When your home has a damaged concrete slab foundation, Texas Strengthening Technologies can help.
Residential or Commercial Properties
With slab on grade foundations, Texas Strengthening Technologies can expertly complete Post Tension Repairs to make sure your home is on solid ground. Typically a plumber, framer, or electrician can drill into a slab and hit a cable with a drill bit. At this stage, we can come out and investigate to get to the root of your concrete slab problem. If cables underneath are broken or damaged, we are able to pull out the broken cables and push in new cable. We then attach the new cables with a splice chuck. Once the full repair is completed, we stress the cable back to 33 KIPS (32,971 pounds force).
You can trust Texas Strengthening Technologies to get the job done right, the first time. Our crews are specially trained in Post Tension Repairs and will make sure your home or business is back to it's good - as - new condition.